In Memory of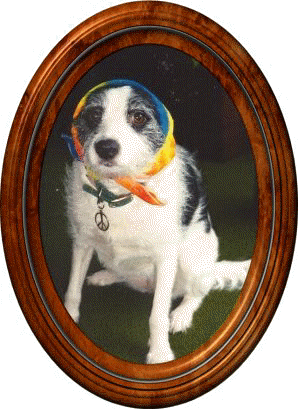 It is with great sadness that I announce that my friend Moonshadow has gone on to Rainbow Bridge.
She was the beloved companion of Mommy's good friend Deidre and her husband Bill and brother to RatDog.
I had a lot of fun playing with Moonie, and feel very, very bad for biting her ear when I spent the night at her house.
She was kind and gentle, a friend to all who knew her.
Moonie will always live on in our hearts and never, ever be forgotten.
She will always be a "Kiss from Heaven"
- the poem below is courtesy of my friend Calvin, who so beautifully expressed in Jack-Talk how we all feel.
It can also be found on the JRO Memorial Site.
i walks in de fores an i see's in de sky
a star shinin so bwight, dat hims caughts my eye.
an i sez to myself 'what can dat be?'
'it's a kiss frum heben', sez de Man to me.

i tink an i tink an den i hears myself say,
'canut dat 'kiss from heben', cum to eart and play?'

gently He pwesses, my paws in His han
an sez 'de kiss from heben is in a far better lan,
where playin an wacing is jes so much fun,
an people an animuls tink together, as one.'

an jes as qwik as He cum, de Man lef me
as i sat wif paws pwessed by de beeg fir twee.

dat star in de sky, still shines so bwight
an i knows it is Moonshadow, comfortin us tonight.