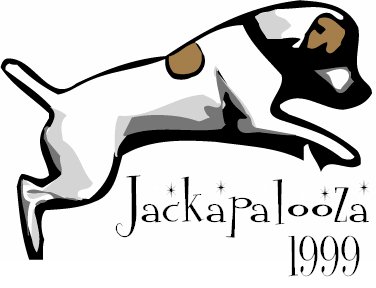 Jackapalooza 1999 was held at Brown County State Park in Nashville, Indiana.
It was a great event, and made it possible to meet so many of our on-line friends from all over the country! Mommy and I went by ourselves, but in a cool rented Mustang that we do not have a photo of! We stayed in a hotel one night - I never had so much fun before! I got to jump on a bed and watch TV at the same time! What a deal!
The next day, we drove to Indiana and met all of our friends - I amazed all of them with my wonderful ability to stalk and kill flashlight beams! Grrr! Dead! It was raining a bit, and we had to be up early for all the fun, so we went to sleep soon after. This was my very first time camping, so I had never been in a tent before - it was pretty cool to be able to hear all the noises of outside! Of course, I was also on the lookout for wild flashlights, and jumped on Mommy's head to wake her up when I saw some passing by!
Sunday was the day of all our events - and a rainy one at that! Mommy and I drove to where the events would take place and we set up next to my pals, the Velcro Brothers of New Jersey. We all got to compete in the events - I did flat racing, hurdles, go to ground, ball toss and the trick contest! It was such a fun day! Just take a look at these pictures (not all of them were taken by Mommy, just so you know!)
At night, we all gathered around Uncle Bill & PK's campsite and started to organize the feast, when we were informed we were on the WRONG campsite! Sheesh! So, all of the Jacks, humans, food, tables, seats, you name it, had to move. After our delicious dinner, there was a very special event - the wedding of Nipper and Mookie! I was so honored to be asked to be a part of their wedding party, but alas, didn't have a thing to wear! So Mookie's thoughtful mother Donna lent me Duncan's tux and tails so that I could be handsome too. As soon as the wedding was over, we all got the best gift of all - FROSTY PAWS! For all of you who don't know what they are, it's DOGGIE ICE CREAM! YUM! I think that was the quietest moment of the whole weekend! And after all us doggies were tucked in our crates for bed, the humans had a taste of Uncle Bill's legendary Bananas Foster - and it was GREAT (smelling, because I didn't get any! :-(
To help you experience Jackapalooza 1999 for yourself, take a look at these pictures!
I can't wait until Jackapalooza 2000, or J2K !!!!
The Events
| | | | |
| --- | --- | --- | --- |
| These are Buster and Babs' boys - Trakker Jax (standing) and Chubby (in chair)- who is now named Harley! Mommy thought Chubby was so cute and wanted to take him home to be my brother - I would have loved that! | These Jacks are (from Left to Right) Jack of Hearts, Monte and FlapJack enjoying the comfort of their crate while watching the day's events. | Here's PK with the JackPack - they were so cute together! | Here I am, racing against my pals! I won 5th place... out of 5 Jacks! Oh well, maybe I will do better next time! |
| Mrs. Penny Wishbone in her new Jackapalooza t-shirt - how lovely she looks! | Bandit (L) and Zoie (R) modeling their finery as well! | Beavis is waiting for the costume contest to begin! | |
The Costume Contest
(Now can you see why Mommy had such a hard time picking the best costume??!!)
DirtyFace leads the team of FarmerJack - what a set of costumes!

"Herd Your Sheep!" - except the sheep is not supposed to pee in their costume!!! hahaha!

The Coca-Cola Bear Jack!

Can you guess who these guys (and gals) are? Their humans worked very hard on these costumes.

Austin Russell (aka PJ Powers) was the guy who said " I put the GRRR in swinger baby! Yeah!"

Click here for a shot of what it said on PJ's coat!

And Winston was the Dancing Queen! hahaha!
He looks a little TOO good in a dress for a guy!

Mookie was a beautiful sunflower and Doc was a handsome bumble bee - don't they look great??

The infamous Velcro Brothers with their "Dirty Clowns" routine!

Wicca was the Material Girl herself! Love that hairpiece!

Here's JackDog dressed as a cool dude! And he IS cool!!

Here's Mandy the Grande Dame, dressed up as Ms. Gypsy Rose Lee!

And heeeeeere's Zoe as everyJack's favorite toy - Mojo the monkey boy!
The Wedding of Nipper and Mookie
Nipper the Groom is watching his bachlorhood pass before his eyes!

But look!
Here's his lovely bride Mookie! Note the exquisite lace blusher veil :-)

Father FlapJack is all ready to perform the ceremony!

The Wedding Party:

Cydney (with Mom Patti), Mookie (with Daddy Lance), Nipper (with Mom Pat) and Tansy (with Mom Patty)

The Rest of the Wedding Party: Me! (and Mommy) and Brody the Best Man (with his mom Marie)
More Photos coming when we can get them scanned!
Links to Other Jackapalooza 1999 Pictures: