HOWLIDAY GREETINGS 1999


The howlidays are just so much fun that I'd like to share them with alla you!
More pictures should be coming shortly!
This is our holiday greeting for 1999. I am wearing the yarmulke to represent the Jewish faith and Zeeber-Gee and Samantha are dressed for Christmas.
But, that Sammy sure is NO angel!!!
Here I am on Hanukkah with our family's menorah. The number of candles lit (not counting the shamash, or helper candle) should tell you what night of Hanuakkah this photo was taken.
This the first time I ever got a look at Santy Paws! I didn't want to stay with him for the photo, so Mommy and Daddy had to join me in the picture - it's our only family portrait to date.
Here's my offish-ul 1st Christmas photo from 1998- I was just a little guy then! Doesn't our tree look pretty?
AND - I didn't pee on it at all!!!

Holiday Photos of My Friends
Here are the Official JRO Jacks in their Holiday photo!

From left to right:

Jack of Hearts, FlapJack, Dr. Jackyll and Monteray Jack


This is my sweet grrlfriend Julie who lives in Long Island, sitting next to the Secret Santy Paws present that I sent her - can you believe it? Out of alla the Jacks at JRO, I was lucky enought to get my sweetheart Julie!!
This is Monty Burns from Inkland (you know, across the pond!) He's so cute in his Santa hat!!
Here are Mister Utley and Spinner wearing the antlers - I won't post the other picture, Mr. Utley!!! hahaha!
Here are Nipper and Wicca celebrating the arrival of Y2K in style!

Hey, pour ME some of that champagne guys!!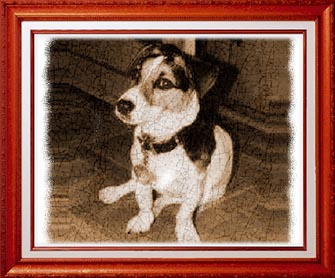 My friend Brody has even composed a Christmas poem for everyone's enjoyment:
Where's my present?
I hope some has sent it!

Where's my present?
I want to destroy and bend it!

Where's my present?
I ain't sharing it either!!
Thanks Brody! You sure expressed the Christmas spirit of JRTs everywhere!!
And here is a BEAUTIFUL card that I received from my Hawaiian pals!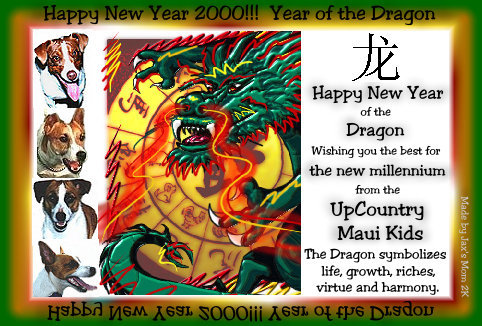 Thanks to the Maui Kids and their mommy Lisa!!!!!!!